FLOOR COATING INSTALLATIONS
WITH SAFETY IN MIND
Midwest Slip Stop is the leader in Durable Coatings, installing all types of Epoxy Floor Systems throughout Chicagoland and surrounding suburbs.
Industrial Concrete Coatings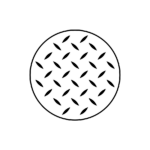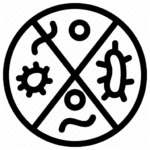 WHAT ARE THE BENEFITS OF OUR HIGH-QUALITY FLOOR COATING SYSTEMS?

#1 PROPER PREP WORK: Before any of our floor coating systems are applied, we ensure that the surface is properly prepped. We cannot stress this part enough after coming across many floor systems failing after only a few years. We start every job by roughing up the surface using our precision diamond grinders which simultaneously remove any existing coatings or contaminates if present. This process ensures that the coating will properly adhere to the concrete and not peel up over time. Any cracks or chips are properly repaired with an advanced slurry formulation. Moisture tests are also conducted by our technicians onsite to determine whether a vapor barrier is necessary before application.
HEPA Filter System: Dust control is very important during the preparation of the substrate. Airborne dust particles are potentially harmful, so it is essential to have a professional-grade dust collection system to maintain air quality. HEPA-type (high-efficiency particulate air) filters are the Rolls Royce when it comes to vacuums. Every single diamond grinder we own is connected to a HEPA dust extraction system during prep work.
Durability: Engineered for commercial and industrial applications. Intended for floors subject to heavy foot traffic and constant exposure to forklifts. Formulated for extreme abrasion, UV stability, temperature, wear, chemical, and impact resistance. Up to 14,500 psi (Compressive Strength)
Cleanable: Resistant to staining and can be quickly cleaned with a broom, mop, squeegee, scrub brush, or any floor scrubbing machine.
Anti-microbial: Designed to promote good health by inhibiting the growth of bacteria, mold, and fungi. This is achieved by creating a non-porous, seamless coated surface which prevents absorption for microbial growth.
Safety: Floor coatings can become very slippery when wet which is why we ensure that all of our coatings are installed with safety in mind. Our technicians are equipped with slip meters to ensure that proper traction levels are achieved for the organization's needs. Since each organization is unique and has exposure to different contaminants in their work field, we have experienced floor safety directors who will ensure that the best flooring system is chosen properly for each unique setting. We offer a variety of textured finishes or non-slip aggregate profiles for all of our coating systems.
Aesthetic Improvements: With a myriad of color and texture options to choose from, coatings can be light or dark, variegated or uniform.
Versatile: When properly prepped and installed our floor coating systems can cover wood, concrete, VCT, tile, and most other typical industrial and commercial floors.
VOC free: Volatile Organic Compound free- CA 01350 air quality compliant. Our floor coating systems DO NOT release (VOCs) into the atmosphere resulting in strong odors during installation not to mention a toxic impact on the environment.
Documentation: Our floor coating systems will keep your organization in compliance with OSHA and give you many years of traction. The slip resistance will surpass guidelines recommended by ADA/OSHA for floor safety significantly reducing the risks of unnecessary slip and fall accidents. A (COF) Test Data Report and Certificate of Service is issued after installation.
Rest assured, your privacy is protected with us. We will not share your information with any third party outside of our organization.
ENJOY SAFER SURFACES WITH MIDWEST SLIP STOP

All I can say is that I couldn't be happier with their service. Very responsive, very professional, never have I experienced a construction project go this smooth. Really took the stress away since we were on a tight schedule.
The crew showed up when Luke said they would, they did an amazing job, real hard workers I must say. Couldn't be happier with the process and end result. Highly recommend this company!

I very rarely write up a public report/reference for work done, but due to the fantastic job that Midwest Slip Stop and Luke did on my garage floor makes this time an exception! I researched quite a bit before making my decision to have my 25 year old pitted garage floor re-done and I am so glad I was referred to Luke as he exceeded my high expectations. Not only was the work done in a quality manner, but Luke spent a good deal of time with me helping to completely understanding the process. I HIGHLY RECOMMEND going with Midwest Slip Stop as your contractor if you are looking to epoxy coat your garage floor.

Very knowledgeable professionals. The old epoxy coating was not properly installed causing peeling and blistering over the years. Turned out that the previous contractors did not prep the floor properly. Luke explained and pointed out all the issues and how to correct them. The new floor coating turned out great and we added some slip resistance that was recommended to reduce the risk of accidents at our shop. You cannot see it, but it is much more slip resistant than the previous coating. Highly recommend, will be using them for our other location.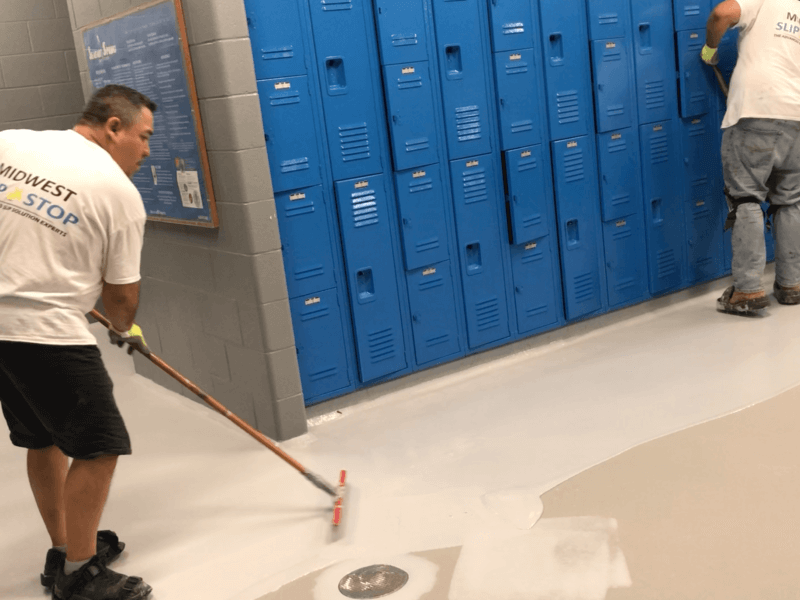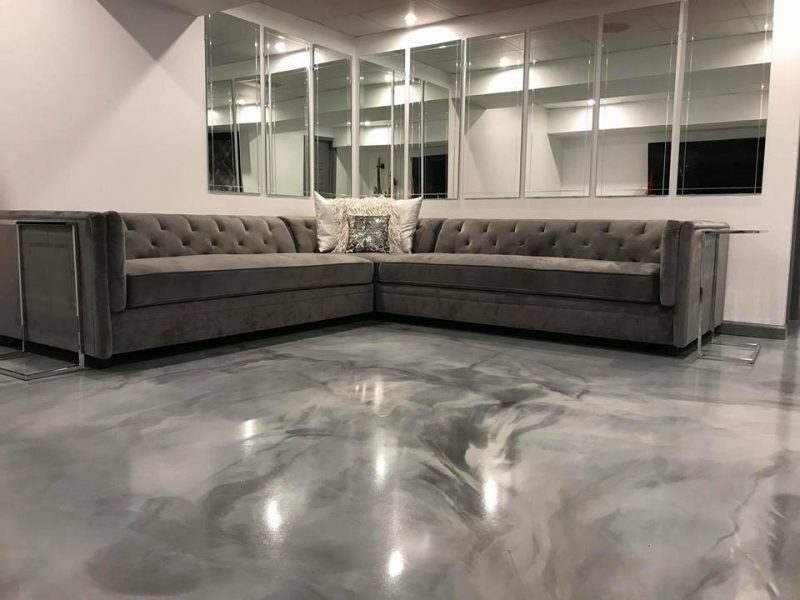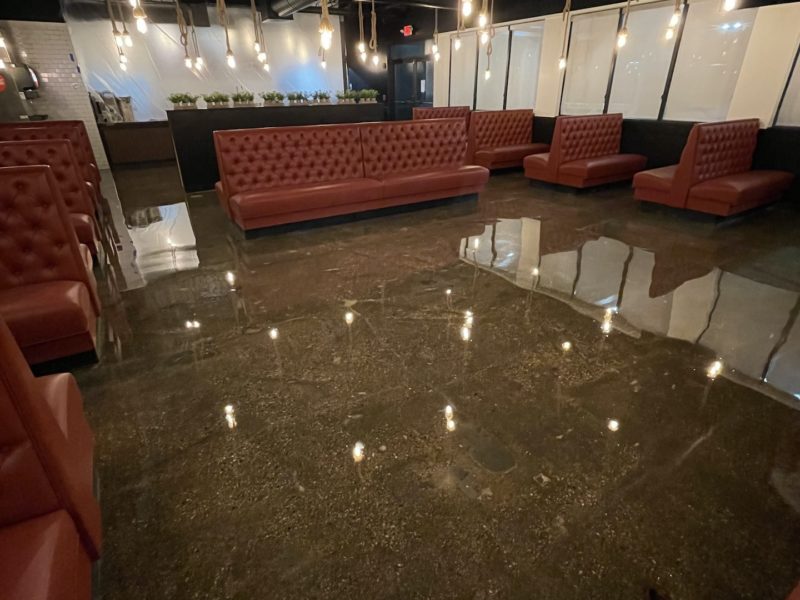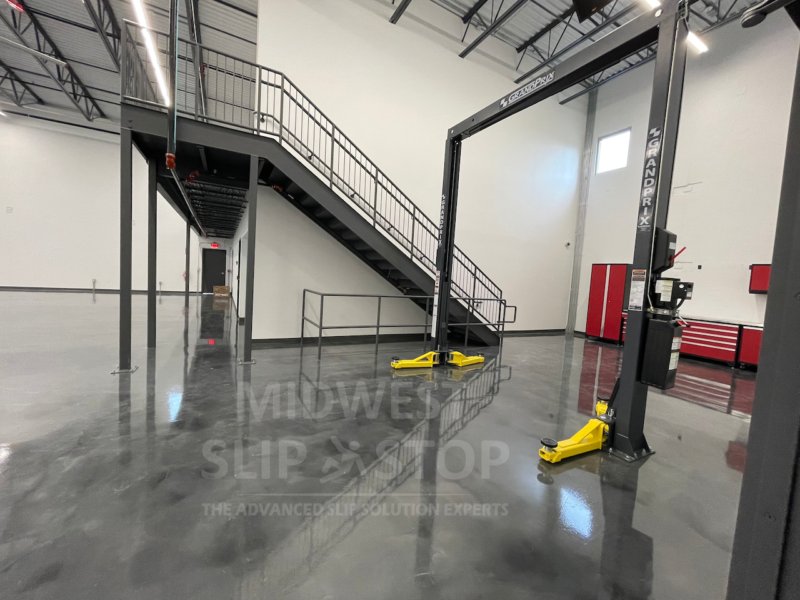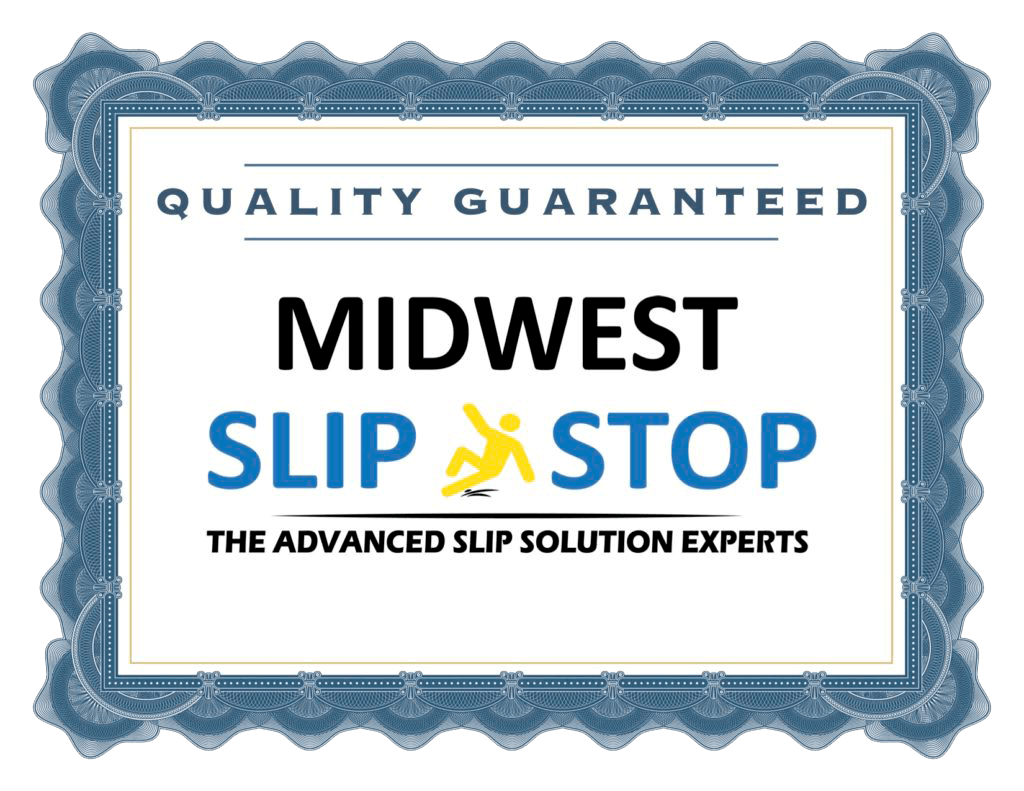 WARRANTY PROVIDED FOR EVERY PROJECT
Midwest Slip Stop provides warranties for every project. You will receive a C.O.F report, certificate of service, and a written warranty. We use only the highest grade industrial strength floor coatings that are engineered not to flake, peel, or blister.
Reduce the risk of slip and fall accidents
by choosing a proactive floor coating for your facility.
Reduce the risk of slip and fall accidents on any mineral surface such as tile by increasing the COF rating. Not a Coating!
Stay proactive by measuring the COF rating of your floor surface to ensure your organization meets ADA/OSHA recommended guidelines for floor safety.
Help maintain productivity and improve. Safety through good traffic flow optimization.