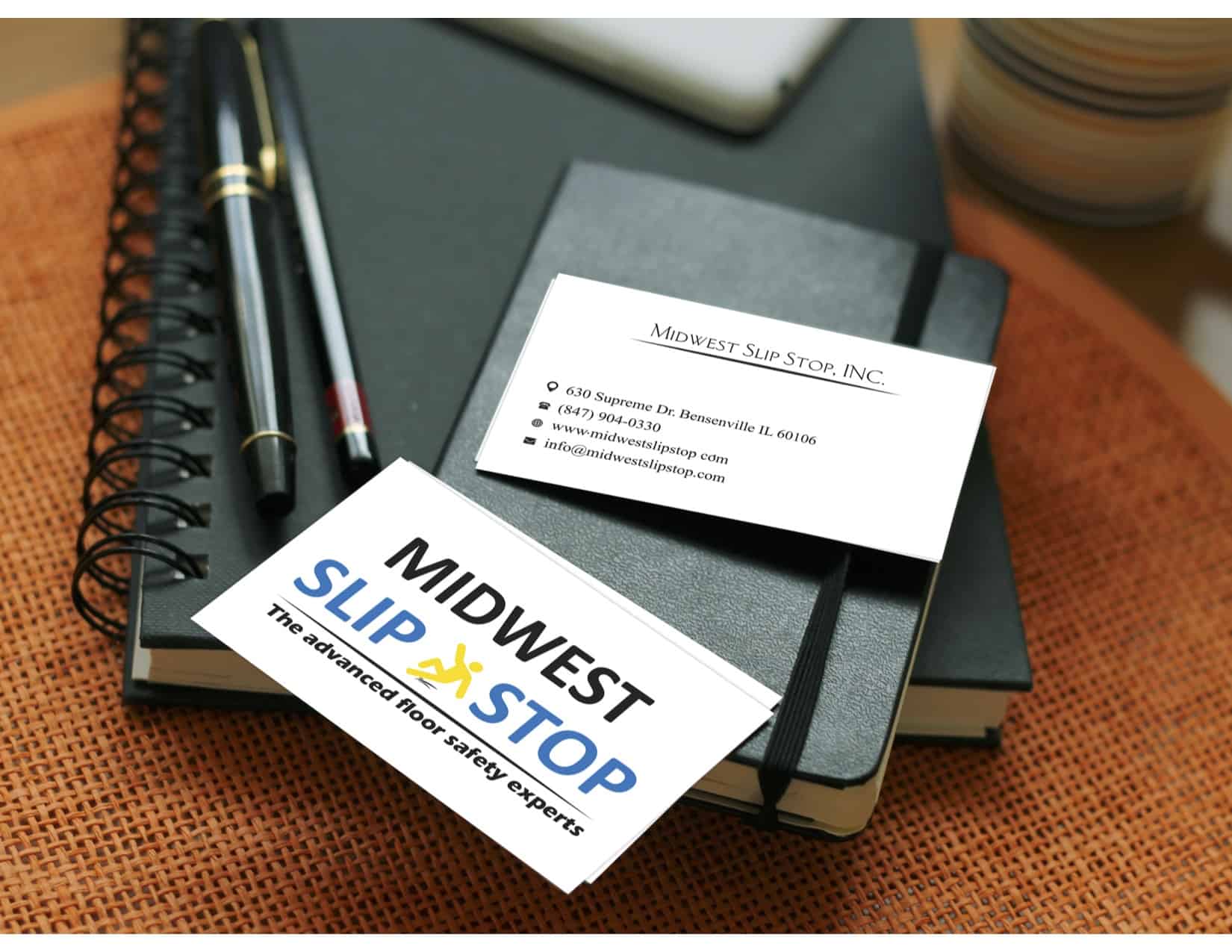 FAQS
Frequently Asked Questions

What does Midwest Slip Stop do?
Midwest Slip Stop provides an affordable, revolutionary floor treatment solution that allows floors to retain their structural integrity and aesthetic appeal while becoming much more slip-resistant. Using Micro-Tread technology, Midwest Slip Stop significantly reduces the risk of potential slip and fall accidents on slippery when wet floors.
Why should I consider having my floors / other slippery surfaces treated?
• 85% of worker's compensation claims are attributed to employees slipping on slick floors (Industrial Safety & Occupational Health Markets 5th edition)
• Slip and fall accidents are the leading cause for visits to the ER (over 8 million), and cause half of all accidental deaths in the home each year.
• Slips, trips, and falls cost businesses over 11 billion a year. On average it takes 33 days for an employee to return to work.
• It costs 50k on average for a business to defend a slip and fall accident
• Falls are the leading cause of injury-related death for adults age 65 and older.
What kinds of floors does the Micro-Tread treatment work on?
Midwest Slip Stop's treatments work on any hard mineral-based surface – both indoors or outdoors. The treatment works on concrete, porcelain, marble, terrazzo, granite, brick, quarry, ceramic, mosaic, chiclet, dairy, glazed, etc.
Does this treatment change the aesthetics of my floor or bathtub?
There is no discernible change in the look or dry feel of your floor when professionally applied. When wet, the surface actually becomes LESS slippery. For fiberglass tubs, some people choose to have us apply a light topical solution to improve traction which is only noticeable up close.
What types of surfaces do you apply your proprietary coatings?
Midwest Slip Stop's proprietary coatings work on various types of surfaces – both indoors or outdoors. They are designed with a very durable synthetic grit for surfaces such as acrylic, fiberglass, VCT, metal, existing epoxy coatings, wood, slate, pavers, concrete, etc.
What are the benefits?
The benefits are endless. Decreased insurance rates, costs, workflow improvement, potential tax credits, general peace of mind, etc.
Does this treatment protect me in a lawsuit?
In most cases, awards are based on negligence. Did the business know there was a risk and did they take action? There have been cases where hotels have hired a professional to treat their floors and they were not sued when a fall occurred. Our service is a proactive approach to reduce the likelihood of a slip and fall accident. After each service area, we provide our clients with proper documentation as proof that extra measures have been taken to minimize accidents in case of a negligence claim.
I've owned my business for many years and never had a slip and fall accident occur. Why should I worry about it?
If you stay in business long enough statistics indicate that it is inevitable that someone will suffer a slip and fall accident at some point. The problem is universal across all business types. After a fall occurs, it is too late for slip-prevention.
What kind of warranty do you provide?
The treatment will last for many years! We back it with a two-year warranty.
How long does the treatment take to perform?
Anywhere between 100 to 250 square feet per hour.
How long after treatment is the floor safe to walk on?
Immediately! No downtime!
Does my business qualify for the ADA Tax Credit?
If your business meets the IRS requirements of "small business" you will qualify for the tax credit. Speak with your accountant or visit the IRS website and review IRS form # 8826 for definitions.
Can I perform this treatment myself?
The treatment must be professionally applied to the floor. Because different types of floors have different chemical compositions, we must utilize our trained staff to ensure the proper type of chemical treatment is performed on your floor.
Will having my floors treated affect my insurance rate?
Businesses with safety committees that hold regular meetings, record meeting notes on safety issues and develop and implement written programs into action plans for making safety improvements can benefit from favorable pricing from their insurance carrier. Upon receipt of your 2-year warranty documenting your new slip-resistant SCOF numbers, you should have your insurance agent fax the document to underwriting for reclassification and adjustment.
What happens to my insurance rates if a slip and fall accident happens at my establishment?
Being proactive is a key factor in keeping low insurance premiums. Filing even one claim is likely to result in an increased insurance premium for years to come. The average business policyholder's claim history will follow the business for 5 years, even through a change in insurance companies.
Will the treatment decrease the life of the floor?
No, the treatment will not decrease the life of the floor.
Why do you claim that the treatment will make surfaces "Safe when Wet or Dry" ?
Our invisible micro-tread treatment process changes the surface in such a way that when exposed to water the floor is not slippery when wet.